Behind the recovery of fuel vehicles a price for volume of the siege war
---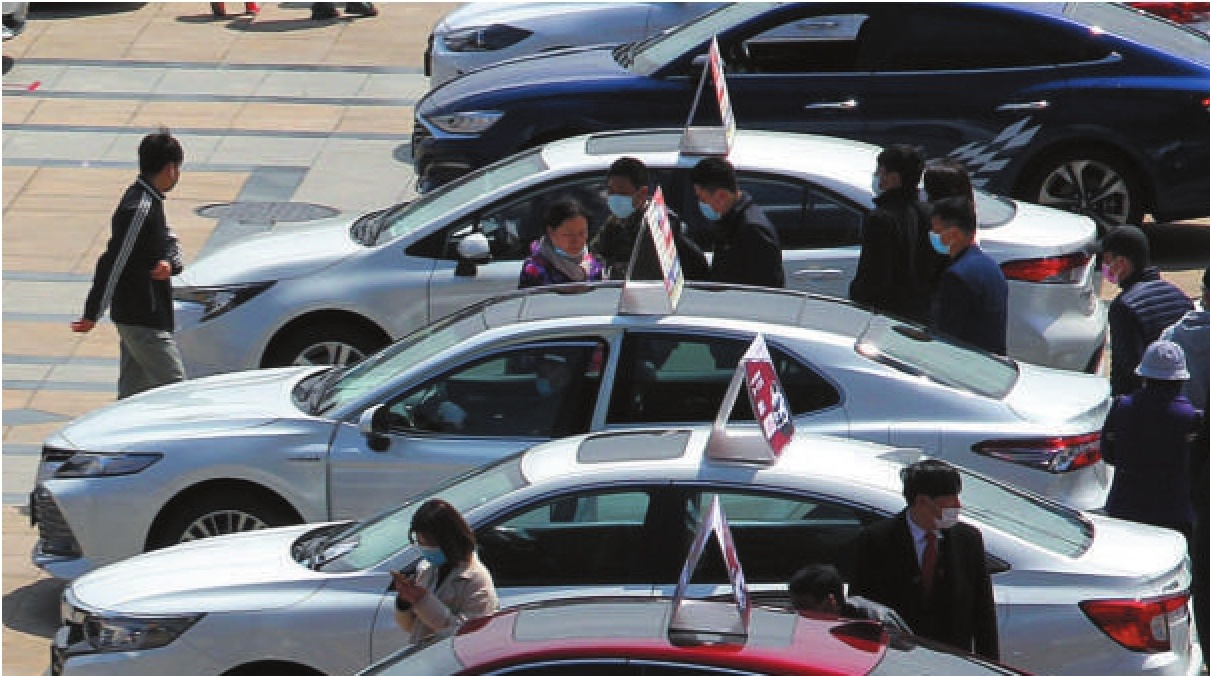 Fuel vehicles seem to be showing signs of recovery in a "singing bad" sound. According to the latest data released by the China Association of Automobile Manufacturers (referred to as "CAAM"), the domestic sales of traditional fuel passenger vehicles reached 1.342 million in September this year, although 112,000 fewer than the same period last year, down 7.7% year-on-year, but the growth was achieved by 11.4%, which is also an increase of 3% compared with 1.3 million in 2021. On the surface, the fuel vehicle market shows a warming trend, but the industry believes that the direct reason for the recovery of fuel vehicles is mainly the recent price cuts and preferential policies of car companies. Cui Dongshu, secretary general of the National Passenger Car Market Information Association (referred to as the "Passenger Association"), said in an interview with a reporter from China Automobile News that in the current era of car electrification, traditional fuel vehicles will gradually decline, and the recent sales recovery is mainly because of the accumulation of national consumption policy effects. The gradual increase of positive factors in economic operation and the cooling of the real estate market have led to the release of consumer demand for car purchases.
Fuel trucks are making a strong comeback
Data show that in September, auto production and sales reached a record high in the same period, and domestic sales of passenger cars reached 2.106 million units in the month, an increase of 9.5% from the previous month and an increase of 1.1% year-on-year. Among them, the domestic sales of traditional fuel passenger vehicles in September was 1.342 million, 112,000 fewer than the same period last year, an increase of 11.4% month-on-month, down 7.7% year on year; From January to September this year, the current sales of traditional fuel passenger cars are still mainly concentrated in the A-class, with cumulative sales of 6.886 million units, down 4.7% year-on-year. From the point of view of the price range, more than 350,000 yuan showed positive growth year-on-year, and the cumulative sales volume of 100,000 to 150,000 yuan was 4.15 million vehicles, down 3.7% year-on-year.
The figures for the Riders' Association are similar. In September this year, China's passenger car market retail sales reached 20.18 million units, an increase of 5%. Cumulative retail sales this year reached 15.23 million units, up 2.3% year-on-year. From January to September this year, passenger car retail sales continued to grow month-on-month, and September hit a new high this year, which is a month-on-month growth trend that has never occurred since this century. In this regard, Cui Dongshu analysis believes that this is because the Spring Festival this year is the earliest time in this century, in the expected stimulus policy brought by the wait-and-see, six old inventory promotion war, real estate cooling to promote car market consumption and policy to promote consumption under the influence of comprehensive factors, the passenger car market trend has become stronger.
Chen Shihua, deputy secretary general of the China Automobile Association, pointed out that mainly accompanied by the policy "combination" effect gradually emerged, China's economic operation continued to recover, the accumulation of positive factors increased, both ends of production and demand continued to improve, enterprises are generally optimistic about the market expectations, the manufacturing industry boom was further expanded in August, and the overall performance of automobile production and sales in the third quarter was also better than expected. The national level has introduced a series of policies to promote consumption, the local level has responded positively, and the new products of enterprises are concentrated on the market in autumn, and the market as a whole shows a trend of "off-season is not weak, peak season is more prosperous".
Objectively speaking, this year's performance of traditional fuel vehicles is better than before. Chen Shihua, deputy secretary general of the China Automobile Association, said: "In September, the domestic passenger car market formed basically the same situation as last year, last year, affected by the purchase tax policy of fuel vehicles, resulting in a significant increase in the sales performance of traditional fuel vehicles in June to July, forming a high base, so it has also become an important factor in the decline in sales of traditional fuel vehicles in June to July this year." And if you stretch out the time line, you can find that the results of 1.342 million fuel passenger cars in September this year are better than the 1.3 million in the same period in 2021.
The September model sales ranking also shows that under the strong occupation of new energy vehicles, fuel vehicles still have a place, and there are 3 fuel vehicles in the top 10 sales, of which Volkswagen lavida ranks third. Industry insiders bluntly, the current automobile market is the era of fuel vehicles and new energy vehicles, new energy vehicles and fuel vehicles may have entered the "strategic stalemate" stage.
Calls for "equal rights for oil and electricity" resurfaced
As Cui Dongshu said, an important reason to promote the recovery of fuel vehicle sales comes from the policy.
In recent years, new energy vehicles have become a driving force for the growth of China's automobile market, and have gained a reputation on the international stage, which is a shining business card of "Made in China", coupled with the proposal of the "double carbon" goal, new energy vehicles have received more and more attention, and the central and local support policies are endless. In contrast, fuel vehicles are somewhat left out in the cold, not only the purchase limit has not been "loosened", and even countries and enterprises have called for a "ban on burning".
However, in order to stabilize the automobile market and drive the smooth operation of the economy, fuel vehicles, which still account for 2/3 of the market share, cannot be ignored. "In 2022, we proposed that oil trams be given the same treatment." Shen Jinjun, president of the China Automobile Circulation Association, said that consumers' choice of oil vehicles or trams should not be guided by policies, but should be determined by the real needs of the market and consumers. It is understood that the association has also proposed to the relevant departments of the State to merge the blue and green license, hoping to achieve "oil and electricity equality."
In realizing that the fuel vehicle market should be steadily transitioning to the new energy vehicle market, relevant policies have also been adjusted. Last year, China once again launched the fuel vehicle purchase tax halved policy, on September 1 this year, the Ministry of Industry and Information Technology and other seven departments jointly issued the "Automobile industry steady growth work plan (2023-2024)" also specifically mentioned to stabilize fuel vehicle consumption. Obviously, the realization of vehicle electrification can not be achieved overnight, especially in the technology is still in the development period, enterprises generally R & D investment is greater than the income of the case, to promote fuel vehicle consumption for expanding consumption, smooth circulation, and promote the sustained recovery of the industrial economy is of great significance.
Under the guidance of the policy, in September, a total of 23 provinces, municipalities and autonomous regions have introduced policies aimed at increasing new car consumption and helping the auto market to stabilize and rebound. In addition to the provinces and municipalities that have not listed specific amounts in relevant policies, in the automobile consumption promotion policies issued in September, the total financial expenditure of various localities is nearly 600 million yuan. It is particularly noteworthy that some of these policies focus on optimizing the management of car purchase and use, and some focus on stabilizing fuel vehicle consumption, no longer just "taking care" of new energy vehicles, as previous policies did. For example, the relevant person in charge of the Tianjin Bureau of Commerce introduced that Tianjin plans to issue 20 million yuan of automobile consumption vouchers in the first phase, and guide major automobile dealers to match funds, and it is expected that the cumulative subsidy funds will exceed 100 million yuan.
Among them, the purchase amount of 50,000 yuan to 150,000 yuan, a subsidy of 1,000 yuan/car; The amount of car purchase is 150,000 yuan to 250,000 yuan, and the subsidy is 3,000 yuan/car; Car purchase amount of 250,000 yuan to 350,000 yuan, a subsidy of 4,000 yuan/car; The amount of car purchase is more than 350,000 yuan, and the subsidy is "This time to see the national policy clearly put forward to stabilize the consumption of fuel vehicles, is the core focus of the most effective stability of our consumption." Cui Dongshu told reporters.
Price cuts to promote joint venture cars lead the way
In addition to the support of national policies, there is another important reason for the recovery of fuel vehicle sales - price reduction promotion.
According to Cui Dongshu observation, after the traditional fuel vehicle promotion activities contracted in February this year, March to September and large-scale development, especially in September, the comprehensive promotion of traditional fuel vehicles has reached 16.3%, not only much higher than the 12.2% at the beginning of the year, but also reached the highest level in nearly five years. Among them, the promotion trend of each car series is relatively differentiated, and the promotion of joint venture car enterprises is relatively large, which has reached 17.5% in September, especially for luxury cars, the promotion intensity continues to increase to 17.8%, which is at the highest level in history. Recently, the promotion of autonomous fuel vehicles has gradually caught up, but only 12.2%, far lower than the joint venture brand.
It should be pointed out that the recovery of fuel vehicle sales is the result of "price for volume", such as the eleventh generation of Accord has faced no small controversy since it was listed, but the sales performance in September this year exceeded expectations, reaching 15,338 units, the month-on-month increase is as high as 120%, the reason behind the growth is just unprecedented preferential efforts. Honda Accord fuel version online promotion has reached 40,000 yuan. To this end, the reporter learned from a Honda 4S shop in Guangzhou that the Honda Accord fuel version in addition to enjoying 40,000 yuan of cash concessions in the local, there are 16,000 yuan of license subsidies, and the vehicle replacement can also take 10,000 yuan of subsidies. And if there are subsequent events to the store, there is room to reduce prices.
Guangqi Honda is not alone in slashing prices. A Volvo dealer in Hangzhou said the latest price of the entry-level Volvo XC90 had been cut by 183,900 yuan from the official guide price of 638,900 yuan to 455,000 yuan. A promotional picture of the Cadillac current CT5 model limited time clearance activity shows that the Cadillac 2023 CT5 (guide price of 289,700 ~ 361,700 yuan), which was just listed in April this year, has a limited time clearance activity price of 199,700 yuan, with a discount of 31%; Dongfeng Nissan for its Xuanyi model added 5 million champion version, the official guide price of 78,600 yuan, compared with the original entry version of the model fell by 30,000 yuan; Saic-gm Buick also launched a limited time discount, from now to September 30, the Weilang Pro limited time discount of 50,000 yuan, the new Regal limited time discount of 30,000 yuan, the Lacrosse limited time comprehensive discount of 20,000 yuan, the Encore family limited time discount of 60,000 yuan, the Encore Banner limited time discount of 70,000 yuan. In addition, there are up to 19,999 yuan of limited car purchase vouchers, 9.9 yuan of 1,000 yuan of limited expansion gold and other limited time promotional activities.
The price war is so "fierce" that luxury cars have to join it. Recently, it was reported that after a number of domestic media came to the store, the highest drop of Mercedes-Benz C-class has been as high as 43%, and the preferential intensity ranges from 60,000 to 110,000 yuan; Facing the replacement of the BMW 5 series, the basic whole series has 80,000 to 90,000 yuan discount; Audi A6L discount is greater, about half of the model discount from 98,000 yuan, the top model is 157,700 yuan.
Fuel truck combat effectiveness
China Automobile Association statistics show that in September, the production and sales of new energy vehicles completed 879,000 and 904,000, respectively, an increase of 16.1% and 27.7%, and the market share reached 31.6%; From January to September, the production and sales of new energy vehicles completed 6.313 million and 6.278 million, respectively, an increase of 33.7% and 37.5%, and the market share reached 29.8%. Although the growth trend is still maintained, it has slowed down significantly compared to last year.
Some experts predict that due to the obvious defects of electric vehicles themselves are recognized by more and more consumers, the fierce competition between them and plug-in hybrid vehicles and fuel vehicles will continue, fuel vehicles with their strong and mature technology, will not be so easy to be eliminated by the market, and finally these three different power models how to share the market. It's still up to them to continue the battle to determine the winner.
It is worth noting that not long ago, J.D.Power (Jundi) released 2023 China's automotive product charm index research report shows that the overall charm index of China's traditional fuel vehicle industry rebounded, reaching 738 points (1000 points), 8 points better than 2022, reaching the highest level in nearly four years. Among them, the luxury brand charm index jumped to 757 points from 744 points last year, and the mainstream brand charm index also increased. The research report found that the importance of the charm of automotive products in the decision-making of consumers is increasing year by year, so traditional fuel vehicles and new energy vehicles are showing a development trend of "going hand in hand". The report pointed out that the breakthrough directions of the two energy types of vehicles are different, and the new energy vehicles have made significant progress in appearance modeling, setting, starting, and driving experience; Traditional fuel vehicles have made the most progress in fuel economy and driving range, safety, in-vehicle infotainment systems, and ride comfort.
In addition, changes in oil prices have also become one of the factors affecting the sales of fuel vehicles. According to the notice of the National Development and Reform Commission, from 24 o 'clock on October 10, each ton of gasoline was lowered by 85 yuan, and each ton of diesel was lowered by 80 yuan, and after the adjustment, the 95 gasoline in most parts of the country will return to the "8 yuan era". The agency estimates that the price adjustment is equivalent to a reduction of 0.07 yuan per liter of 92 gasoline, 0.07 yuan per liter of 95 gasoline, and 0.07 yuan per liter of 0 diesel. Taking ordinary private cars with a fuel tank capacity of 50L as an example, after this price adjustment, the owner of a full tank of oil will spend about 3.5 yuan less. In terms of diesel, a large truck with a tank capacity of 160L will save about 11.2 yuan by filling up a tank of oil.
It is conceivable that the decline in oil prices will also play a certain role in promoting the sales growth of fuel vehicles.
New energy vehicles do not trade losses for sales
Cui Dongshu has shared a set of data: up to now, 92 new cars have been launched by domestic car companies in 2023, of which only 25 pure gasoline vehicles, accounting for only 27.2%; There are 32 pure electric vehicles, 23 plug-in hybrid models, and 12 ordinary hybrid models. By comparison, 126 new cars will be launched in 2020, with 59 gasoline models; In 2021, 126 new cars will be launched, including 56 gasoline cars. A total of 167 new cars will be launched in 2022, including 56 gasoline models. In just three years, the share of new cars powered by pure fuel has plummeted from half to a quarter.
Behind the rapid pace of electrification, the profit level of enterprises has more or less declined. The association has previously pointed out that fuel vehicles are still the source of capital profits for many car companies. At present, the new energy vehicle industry is still in the early stage of development, most new energy models have not yet formed a scale effect, the early research and development investment is high, and the new energy business is generally in a state of loss. Therefore, for most car companies, it is still necessary to use the profits of traditional fuel vehicles as its "blood transfusion".
Some car companies have also adjusted in terms of product strategy: You Zheng, deputy general manager of Dongfeng Motor, said that the company's future fuel vehicles and new energy vehicles are equal, and it is an inevitable trend to carry out hybrid and plug-in transformation on traditional platforms; Li Xueyong, deputy general manager of Chery Automobile Co., LTD., general manager of Chery Marketing Company and general manager of Jietu Automobile, said at the Chery Science and Technology Day held not long ago that Chery and Jietu will adhere to fuel vehicles for a long time and develop new energy with hybrid as the core. Star Era and iCAR are mainly pure electricity, but it does not rule out the introduction of other powertrains such as hybrid in the future, so that Chery Group's four brands can gradually realize new energy. Yin Tongyue, chairman of Chery Holding Group, also said frankly at the press conference: "Chery has' got up early and caught up late 'in terms of new energy vehicles, but it will never rely on losses in exchange for sales in new energy." Meng Xia, CEO of Volkswagen Passenger Car brand in China, shared the same view, saying: "Volkswagen is very confident about the Chinese car market this year, and the annual passenger car market is expected to reach about 22 million units, of which about 14 million are fuel vehicles. This is very important for Volkswagen, as fuel cars remain an important part of our business and we have delivered strong results in the fuel car market." He asserted that there is still space and demand for fuel vehicles in the Chinese market in the next 10 years.
Industry insiders believe that the current fuel vehicle has high stability, mature technology and other advantages, in the winter travel scene has an irreplaceable position, higher penetration rate, Chinese consumers still have a greater demand for fuel vehicles. Based on this, from the perspective of energy security and balanced industrial development, adhere to the multi-path development of pure electric and hybrid power, in order to ensure the continuous promotion of the "dual carbon" goal and ensure energy security. Only with the coordinated development of "two legs" can we achieve the high-quality development of the market, and then stimulate the upward development of manufacturing and industry, and promote the steady operation of the national economy.
Originally published by China Automotive News, October 27, 2023