The large-scale commercial use of intelligent driving is at an inflection point
---
The era of large-scale commercial use of intelligent driving has begun.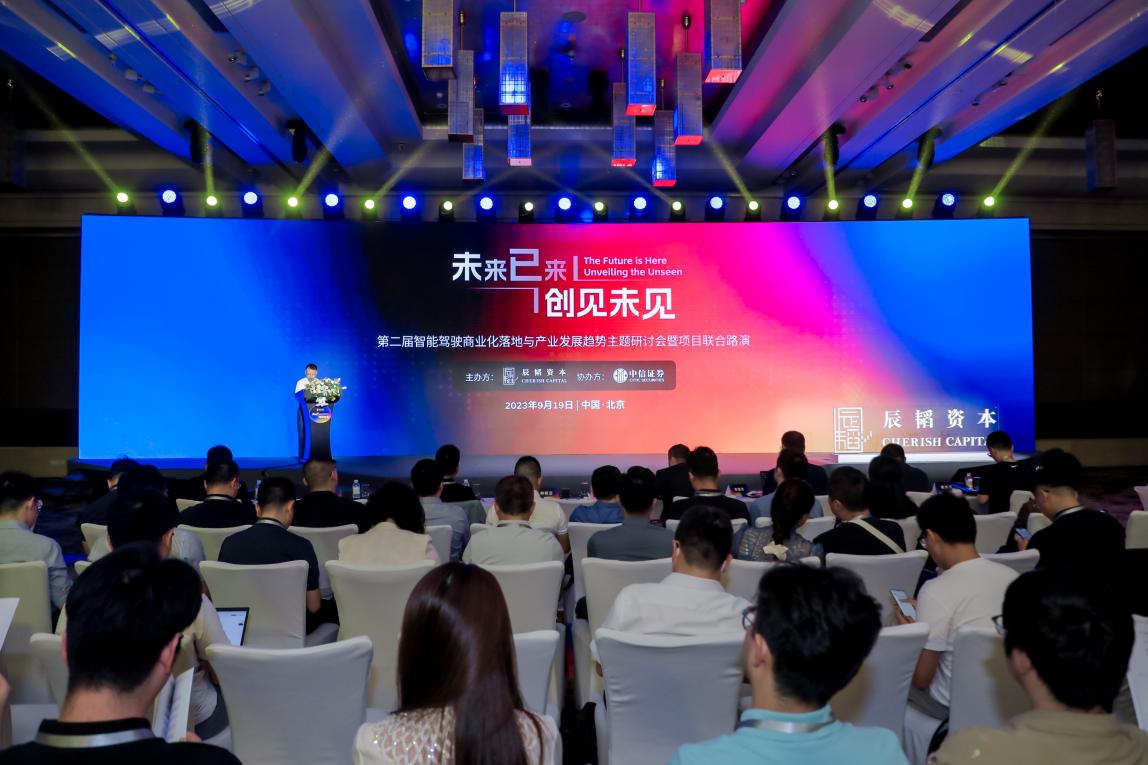 On September 19, at the 2nd Intelligent Driving Commercialization Landing and Industrial development Trend theme Seminar and project joint roadshow sponsored by Chen Tao Capital and co-organized by CITIC Securities, many industry experts, investment institutions, research institutions and upstream and downstream enterprises of the intelligent driving industry chain demonstrated the acceleration of large-scale commercial use of intelligent driving.
As Lin Xinzheng, chairman of Shanghai Chentao Asset Management Co., LTD., said, the unmanned driving industry is a few emerging big industries with clear space for future development in China, and it is at the inflection point of industrial investment.
Policy intensive landing to promote the industry landing speed
"2025 is a key point for the commercial application of autonomous driving." Li Xiaolong, deputy secretary general of China Intelligent Network Automobile Industry Innovation Alliance forecast.
It can be said that whether it is from the data of industrial development, or the support of the policy, it shows that the commercialization tide will come as scheduled.
Relevant data show that in 2022, China's intelligent driving industry market size has reached 289.4 billion yuan, and by 2025, China's intelligent driving car market size will be close to one trillion yuan. The domestic intelligent driving industry is developing rapidly. At present, the country has opened more than 15,000 kilometers of intelligent connected vehicles to test roads, and multi-scene demonstration applications such as intelligent driving taxis, unmanned buses, autonomous valet parking, trunk logistics and unmanned distribution are being carried out in an orderly manner. At the same time, 17 national test demonstration zones, 16 "double intelligence" pilot cities, and 7 national vehicle networking demonstration zones have completed more than 7,000 kilometers of intelligent road upgrading and upgrading, and more than 7,000 sets of roadside network equipment have been assembled.
In addition, since the beginning of this year, the intensive landing of relevant policies, especially the gradual refinement of high-level intelligent driving program regulations, is expected to boost the commercial landing of automatic driving to a climax. Li Xiaolong said that for the core technology, policy research and development, demonstration application, business model and other challenges, the national ministries and commissions actively promote the solution, the next step is expected to support the intelligent network car research and development and industrial development through major special means.
At present, various ministries and departments and local governments are actively promoting the new exploration of regulation and policy supervision. First of all, cross-ministerial coordination, planning access pilot projects and other pilot projects, to create a good development environment. Secondly, central and local coordination, local display first explore the path of innovation. As of June 2023, more than 50 provinces and municipalities in China have issued detailed rules for the implementation of road testing, promoting unmanned testing, manned testing, load testing, high-speed testing, and commercial pilot test demonstration and innovation exploration, and many have promoted the development of intelligent networked vehicles through local legislation or the establishment of policy pilot zones. For example, Suzhou recently said that the country's first L4 level smart highway will be completed soon, and Shenzhen will open 89 kilometers of high expressways such as Nanping Express, Shuiguan Express and Guangzhou-Shenjiang Express in the near future. At the national level, in July this year, the Ministry of Industry and Information Technology and the National Standardization Administration Committee jointly revised and issued the "National Internet of Vehicles Industry standard System Construction Guide (Intelligent Connected Vehicles) (2023 version)".
Closed scenes usher in a huge space for development
In order to grasp the landing and breakthrough of automatic driving subdivision scenarios in the next few years, closed scenes are one of the best directions for the landing of automatic driving technology at present. Closed scenes such as distribution, mines, ports, etc., are undergoing intelligent, new energy and unmanned development changes, and their market development space is huge.
According to reports, so far, Chen Tao Capital has laid out nearly 20 intelligent driving enterprises, including automatic driving specific scenarios, core supply chain, software and services, automatic driving specific scenarios include mines, ports, unmanned forklifts, parks, cleaning and other subdivisions of the track.
He Xiongsong, executive general manager of Shanghai Chen Tao Asset Management Co., LTD., talked about the reasons for Chen Tao Capital's "persistent" investment in closed scene circuits: clear trends, broad market space, and good malleability of talent and technology.
Specifically, the shortage of power in mines, ports, and terminal distribution makes it a strong demand for autonomous driving technology; In terms of market space, the trunk track alone has a space of several trillion yuan, and the end port, end distribution and other related subdivisions add up to more than one trillion yuan, accounting for about ten percent of GDP. The modules involved in the automatic driving track are very comprehensive, soft and hard, and all aspects are involved.
"The world's first L4 commercial company in the closed scene is basically certain that it must be produced in China." Lin Xinzheng said that the closed scene unmanned driving industry is a typical upgrade iteration of China's advanced manufacturing industry, which has well absorbed the nutrition of China's strong manufacturing capacity, and has grown up with China's resource endowment and manufacturing capacity endowment, and is an industry with comparative advantages in the world.
Although the financing of the autonomous driving industry has cooled this year due to the macroeconomic impact, it can still be seen that the development of the industry has entered the fast lane. In particular, the acceleration of development in closed scenes such as distribution, mines, and ports is more obvious. At the roadshow, many of the head companies of the closed scene subdivision circuit shared their latest progress.
Technically, the head enterprise of the mining scene has achieved 100% normal personnel removal, and is close to the manual efficiency under the parallel operation of the scale of 100 cars, and the gross profit of a single mine has been turned positive. The whole industry is gradually entering the stage of cost reduction and efficiency improvement from the early function realization and adaptation.
For example, easy to control intelligent driving: compared with last year, the automatic driving algorithm has run through, and it is currently adapting to more scenarios; To achieve 100% normalized safety personnel, the operational efficiency has achieved 100% of manned driving. The maximum number of vehicles in a single mine has exceeded 115, and the gross profit of a single mine has turned positive. At this stage, the commercialization focus has shifted from autonomous driving algorithms to the adaptation of hardware such as drive-by-wire chassis, including vehicles, and has entered the stage of comprehensive cost reduction and efficiency increase.
The port scene has expanded from the early ports to rail, land and distribution centers, and the industry ceiling has been greatly raised. A large number of new energy heavy trucks have been introduced to promote the effectiveness of domestic ports in increasing efficiency and reducing carbon.
For example, the whole process does not require drivers or safety officers, and the team realizes 7 x 24 hours standby, instant wake up, and instant operation. There is no permanent staff in the operation area to ensure safety. At the beginning of July this year, 122 pre-installed mass production smart heavy truck orders were first delivered, forming more than 200 unmanned transport fleet scale. The order delivery time for the port park has been shortened to about one month from the previous six months.
The end distribution scenario has been realized in the demonstration areas of some cities with low speed unmanned, and the demonstration cities have gradually increased. In the branch section of the city, express delivery, supermarket, takeout, group buying and other scenes are diversified. Technically, on the one hand, it began to gradually reduce the reliance on high-precision maps, and gradually moved to the mapless mode of light maps like passenger car autonomous driving, and with the rapid growth of sensor and chassis shipments throughout the industry, the cost of sensors and chassis in the head company is gradually reduced to a level that can support large-scale commercialization.
For example, the white rhino, technically, the speed continues to improve, to achieve the normal commercial operation of downtown roads in the city. Cooperative customers continue to increase, and some customers have begun to buy again. A number of new cities have been opened, and a single city has expanded from one district to several.
After ten years of development, new energy vehicles have achieved the "lane change overtaking" and industry leadership in the global automotive industry. After ten years of development, the technology of intelligent connected vehicles has gradually matured. Today, the application of intelligent driving has officially kicked off, and the large-scale commercial use of intelligent driving has ushered in an inflection point.
Originally published by China Automotive News, September 21, 2023