How new energy vehicles can help Chinese auto brands rise
---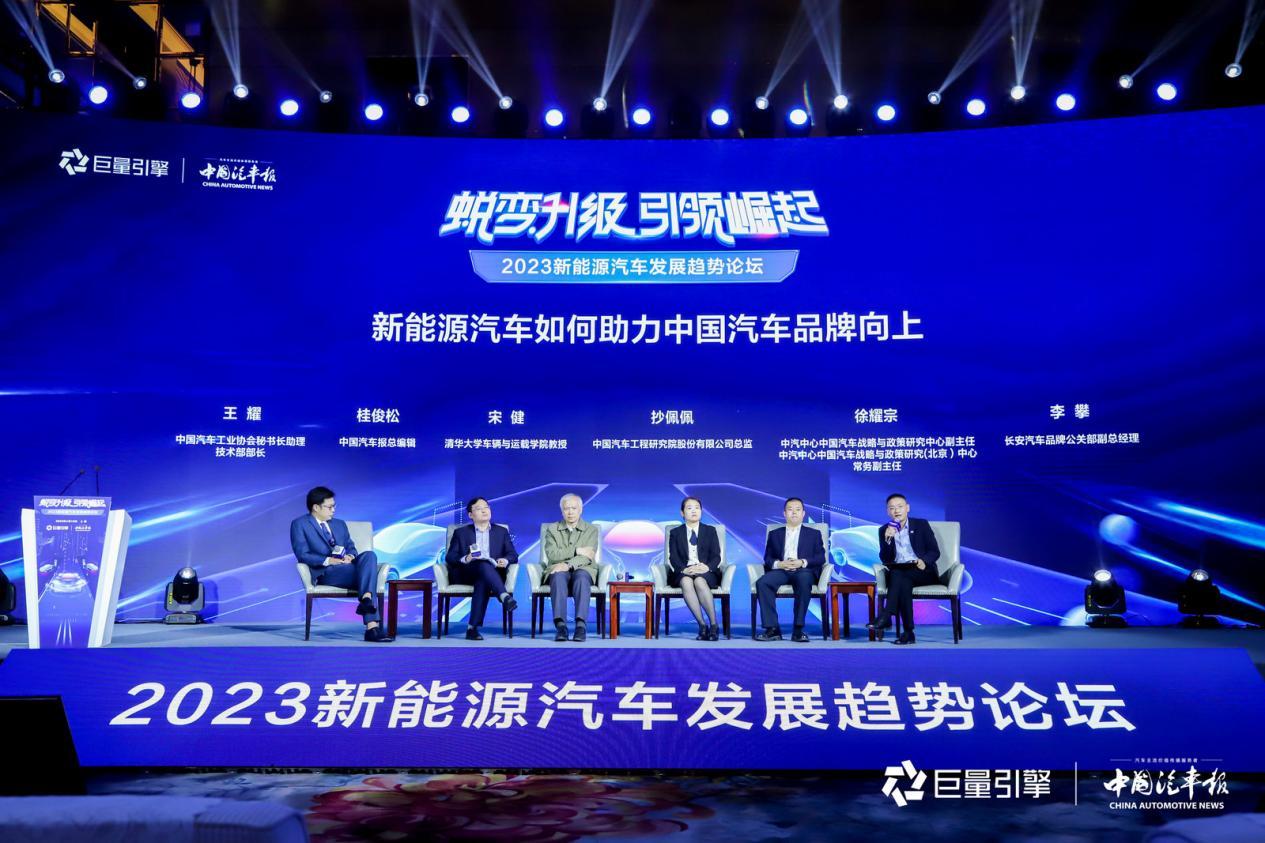 "You don't just need to 'go out,' you need to go up. Chinese automobile brands have opened their market signboards with the help of new energy vehicles, and how to enhance brand value and expand brand influence has become the core issue of the next development of Chinese automobile brands. Wang Yao, assistant secretary-general and director of the technology department of the China Association of Automobile Manufacturers, said.
  
On April 15, under the chairmanship of Wang Yao, several automotive industry experts held a wonderful roundtable discussion on "How New Energy Vehicles Help Chinese Auto Brands Upward".
  
China's new energy vehicle development achievements are remarkable
  
"Internationally, China's global market for new energy vehicles has ranked first in sales for eight consecutive years, accounting for more than 60% of the market share; From a domestic point of view, more than 80% of China's more than 6 million new energy vehicle sales in 2022 are independent brands, and the development data of China's new energy vehicles is very eye-catching. Xu Yaozong, deputy director of the China Automotive Strategy and Policy Research Center of the China Automotive Center and executive deputy director of the China Automotive Strategy and Policy Research (Beijing) Center of the China Automotive Center, said that under the strong guidance of national policies in the past ten years, the development achievements of new energy vehicles have been very outstanding, not only the improvement of quantity, but essentially the improvement of core competitiveness including technical level, product quality, brand, etc.
  
In Wang Yao's view: "In the global competition, China's new energy vehicles have become an important business card of Chinese automobile brands. "
  
Xu Yaozong said that the penetration rate of new energy vehicles in China has reached 25% in 2022, and under the guidance of the national strategy, new energy vehicles will play a greater role, which is reflected in several aspects:
  
First, from a technical point of view, new energy vehicle products are mainly terminal-oriented. Consumers are most concerned about cost performance, charging convenience, etc., in these aspects, when technology and cost reach a balance point, new energy vehicles will usher in more rapid development, and play a greater role in the national economy. In the core technology of new energy vehicles, in addition to individual basic devices, chips, and materials are still in the process of research, China has strong global competitiveness.
  
Second, from the perspective of talent gathering, the new energy vehicle industry chain is very long, and now coupled with the requirements of "dual carbon" and intelligence, the industrial chain has far broken through the original link from production to manufacturing. In the process of extending the industrial chain, core talents in various fields will be gathered to cultivate core technology research and development strength.
  
Third, the goal of "banning burning" in Europe has formed a preliminary consensus, when will China achieve this goal, or how to achieve this goal? Relevant government departments and institutions are also strengthening research. From this point of view, new energy vehicles will play a very huge supporting role in the future.
Gui Junsong, editor-in-chief of China Automotive News, also said that new energy vehicles are becoming "China's new business card" with their unique value, which is a truly popular, highly competitive, high-tech, industrial integration product.
  
Globalization is the only way for Chinese brands to move up
  
"Since opening up a new track in 2014, China's new energy vehicles have truly led the upward trend of Chinese auto brands." Chao Peipei, director of China Automotive Engineering Research Institute Co., Ltd., said that in the recently issued "Implementation Opinions on the High-quality Development of New Energy Vehicles in the 14th Five-Year Plan", the national orientation related to "brand up" was mentioned for the first time in the field of new energy, which proposed that by 2025, China's new energy vehicle industry will occupy more than three of the top five global brands; By 2035, it is necessary to form a number of international leading high-quality brands of new energy vehicles.
  
Data show that in 2022, China's automobile exports reached 3.11 million units, surpassing Germany for the first time to become the second largest automobile exporter, a record high. In the first quarter of this year, China's production of new energy vehicles has exceeded 1.6 million, the market penetration rate of new energy vehicles has reached 26%, and automobile exports have exceeded 250,000 units, a year-on-year increase of 1.1 times. On the road of development of China's automobile industry, globalization is the only way to go, and it has become a natural success.
  
As Wang Yao said: "Over the years, new energy vehicles have developed greatly with the strong support of the state, but if the vision is only in China, enterprises and industries are very 'involuted', you can look at the financial statements of various new energy vehicle companies, most of which are in a non-profit state." We need to think globally and explore the broader market. "
  
In addition, according to Pepepe, the level of automotive safety and energy efficiency led by standard testing has been greatly improved. In the future high-quality development of new energy vehicles, third-party institutions including the China Automotive Engineering Research Institute will continue to further strengthen the research on core standards such as safety, health and intelligence of new energy vehicles, which can guide the entire industry to improve the technical level in a more forward-looking way, and will also introduce some brand evaluations into the global market, so that the improvement of the technical level, brand value and global influence of China's new energy vehicles will have some positive promotion effects.
  
"Today, China's new energy vehicles, including intelligent networked vehicles, have gone to no man's land in many fields, and there are no ready-made standards. When we talk about the globalization of Chinese automobile brands, it is not only our products 'going out' and new energy vehicles 'going out', but also the need for Chinese standards to 'go global'. Wang Yao added.
Song Jian, a professor at the School of Vehicles and Transportation at Tsinghua University, made suggestions for Chinese auto brands to go global from the perspective of risk avoidance. He said safety is always the most important issue. There are two main aspects of the problems brought to human beings by automobiles: one is safety issues, and the other is environmental pollution. He suggested that the industry should develop mass-produced solid-state batteries as soon as possible, and improve the active safety of vehicles through intelligent technology to avoid sky-high claims caused by safety problems after new energy vehicle products are exported abroad.
  
China's new energy vehicles need "innovation" and "resilience"
  
"'Innovation' and 'resilience' are the issues that Chinese auto brands have to face, which is the basis for maintaining the advantages of new energy vehicles." Li Pan, deputy general manager of Changan Automobile's brand public relations department, believes that in terms of technological innovation, the first is to maintain continuous high investment, the second is to achieve independent and controllable core technology, and the third is to innovate for customer needs.
  
In terms of improving the resilience of the industrial chain, Li Pan said that as an automobile company, it must first be very firm in the direction of energy innovation and intelligent innovation; Secondly, car companies in the industrial chain more assume the role of the "chain leader" of the industrial chain, to perform their responsibilities and reflect their responsibilities, to unite the upstream, middle and downstream industrial chains, and promote the formation of a world-class collaborative community of strategic cooperation, benefit sharing and risk sharing; Finally, everything is inseparable from talents, and enterprises need to continuously introduce and cultivate talents, and optimize and adjust the internal talent structure.
  
In addition, Li Pan analyzed that the current automobile manufacturing industry is rapidly transforming from traditional manufacturing to advanced manufacturing, which will be a representative of advanced manufacturing. From the car itself, the car used to be more of a traditional mobile tool, and now it is more of a high-tech product. With the empowerment of new technologies such as chips, 5G, and big data, the future car is a mobile multi-functional space, a large-scale intelligent mobile terminal, a carrier of data collection, or an energy storage unit. The entire automobile industry has transformed from traditional transportation to travel products and ecological services. In this process, car companies must carry out technological innovation in the following two aspects: first, in terms of energy replenishment, to provide customers with more economical and practical mobile energy supplements; Secondly, to meet the differentiated needs of customers, the foothold may be in intelligence.
  
Pao Peipei also said that to maintain the resilience of the industrial chain, the core is to maintain the investment and effect of technological innovation. "In addition to the driving role of scientific research led by OEMs, as a third-party platform, China Automotive Engineering Research Institute also hopes to build some more professional industry public platforms focusing on forward-looking and key technologies to organize more industry forces to break through key core technologies and realize the leadership of China's new energy vehicles in technological innovation."
  
"In addition to the industrial chain itself, in the context of industrial integration and transformation, the synergy and ecological construction between industries are very important. In particular, it is our vision to achieve interconnection between new energy vehicles, intelligent vehicles and intelligent transportation, smart energy, and smart cities, and to create a complete ecology, and it is also the direction that must be realized. Gui Junsong said.
Originally published on China Automotive News on April 25, 2023