Hu Hanjie: FAW Jiefang gathered the transformation to win a new course
---
In 2022, the market demand for commercial vehicles in China slowed down due to the continuous attack of epidemic, soaring commodity prices, tight global supply chain, and the serious "surplus state" in the domestic logistics industry, coupled with high oil and gas prices and economic downturn. The China Association of Automobile Manufacturers (CAAM) released data showing that from January to August, China's commercial vehicle production and sales completed 2.165 million and 2.206 million units respectively, down 34.1% and 36.2% year-on-year, compared with the first half of the year-on-year decline of 38.5% and 41.2%, although the decline in January-August has narrowed, but the commercial vehicle market "bad "The performance of the commercial vehicle market still exceeded the expectations of most industry insiders.
  
On September 8, China's commercial vehicle industry leader FAW Jiefang released its 2022 August production and sales snapshot. The flash report showed that the cumulative production and sales of FAW Liberation from January to August were 114,106 units and 123,331 units, and FAW Liberation's market leadership remained solid at a time when China's commercial vehicle market was weak. In the first eight months, FAW Liberation's market share in the terminal reached 26.1%, up 2.3 percentage points from 2021.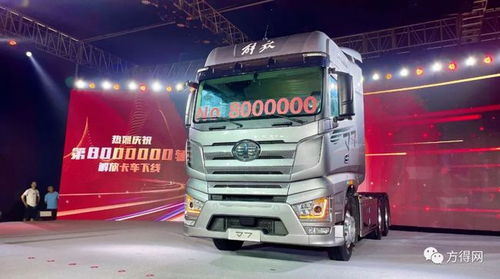 How does FAW-PLEDGE hold its ground? What are its views and predictions on the current situation of the industry and the future market? What kind of planning and layout does it have?
  
With the above questions, the reporter of Auto Vertical followed Li Shaohua, Deputy Secretary General of China Association of Automobile Manufacturers, to visit FAW Jiefang and interviewed Hu Hanjie, Chairman and Secretary of Party Committee of FAW Jiefang, to explore the secret of success of the industry leader.
  
Hu Hanjie, Chairman and Party Secretary of FAW PLA (left), Li Shaohua, Deputy Secretary General of China Association of Automobile Manufacturers (right)
  
Focus on the terminal with a long-term perspective
  
According to Hu Hanjie, the more difficult it is to survive, the more enterprises, especially state-owned enterprises and central enterprises, should not forget their missions. In the sluggish market environment, FAW Jiefang has focused on the terminal based on the long term, taking "grabbing the terminal, reducing inventory and preventing risks" as its business strategy to promote sustainable and healthy development of the enterprise and the industry.
  
During the epidemic, dealers were burdened with huge capital backlog and inventory pressure. In order to alleviate the impact of the epidemic on dealers, FAW Liberation formulated a series of policies such as financial support, inventory buyout and online activities to help dealers to relieve their difficulties, and sacrificed short-term performance to reduce the burden of dealers, and joined hands with dealers to tide over the difficulties.
  
Since the beginning of the year, FAW Jiefang has taken AAK sales data as the sales indicator, shifting the focus from "wholesale volume" to "terminal sales" to boost dealers' confidence and digest inventory.
  
Hu Hanjie, Chairman and Party Secretary of FAW Jiefang
  
In Hu Hanjie's view, sales in the terminal market are often more "golden", as terminal sales data represent the real choice of front-line users and can more accurately reflect the product competitiveness and brand appeal of commercial vehicle companies. By blindly expanding the number of dealers, pressure dealers to increase vehicle inventory, so as to get the "beautiful" wholesale volume data, and publicize the report, is the host factory's inaction, but also the irresponsibility of the dealers.
  
"As a responsible enterprise, we should protect the dealers and co-exist with them when the industry is difficult." Hu Hanjie said, "Sales data, a few thousand units, 10,000 units of the gap, reflecting the brand, product competitiveness, but the pursuit of data bright, easy to crush the dealers, is tantamount to drinking hemlock to quench thirst."
  
The layout of dealers needs to be reasonably planned according to market share and sales volume; the pricing of products also needs to ensure that dealers have reasonable profit margins. "FAW Jiefang will not blindly expand its dealers, and will not be the first to launch a price war." Hu Hanjie especially emphasizes that "being realistic and daring to show one's sword is the proper attitude and responsibility of a responsible enterprise"
  
At the user level, FAW Jiefang has launched a policy of deferred principal and interest repayment for customers, and also launched the "Ten Initiatives to Relieve the Difficulties of Card Users" to help customers solve the problems of car loans and car maintenance. At the same time, FAW Jiefang guided customers to pay attention to TCO operating costs, and gave full play to the advantages of the "Four Ecological Swordsmen" to provide customers with full-cycle services such as leasing, insurance, maintenance and used car sales and purchases, so as to enhance customers' operating value.
  
Because of this, when the "winter" came, FAW Liberation held the top position in the industry with forward-looking vision and development thinking, and its market share climbed to 27.4% in a single month in August.
  
Seeking progress amidst changes, seeking opportunities amidst crises
  
For a long time, FAW Jiefang has been leading the industry and gaining the trust of customers with its product leadership, technology leadership, value leadership and sales leadership.
  
In 2021, FAW Jiefang sold nearly 440,000 vehicles. Among them, 373,400 medium- and heavy-duty trucks were sold, with a share of 23.7%, firmly sitting at the top of the industry. By now, FAW PLA has achieved "five consecutive global championships" in medium and heavy truck sales, "six consecutive global championships" in heavy truck sales, and the absolute industry leader in tractor sales for 16 consecutive years.
  
As a result, it is necessary to think of danger in times of peace. FAW Jiefang deeply understands that, like the passenger car industry, the commercial vehicle industry is experiencing a new era of expansion and change.
  
According to Hu Hanjie, the changes in the commercial vehicle industry are mainly reflected in three aspects. First, the product structure has changed. Under the influence of the double carbon target and the epidemic, China's transportation structure is being optimized, and it is the trend to realize "public to railway" for the transportation of bulk materials. The demand for large vehicles for dry-line logistics will gradually decrease, replaced by small and medium-sized trucks. Secondly, the proportion of commercial vehicle exports has increased dramatically. At present, the proportion of commercial vehicle exports has reached about twenty percent of total sales, with a broad prospect. Finally, the rapid development of new energy vehicles, mainstream commercial vehicle enterprises have joined the track.
  
Facing the increasingly fierce market competition and deeper market changes, FAW Jiefang insists on innovation-driven and change-driven, and put forward the transformation strategy from "traditional truck manufacturer" to "intelligent transportation solution provider" as early as 2018. It also launched the "Columbus Smart Logistics Open Plan", which aims to provide users with a complete solution for smart logistics covering the entire life cycle of a vehicle, making transportation and logistics smarter and safer.
  
Among them, the Telematics platform - Jiefangxing, with the car as the link and data as the medium, aggregates industry quality ecology and provides customized solutions for users. The "Four Swordsmen" value-added services of Jiefang Ecology, consisting of "ETC, refueling, fleet management and safety butler", really help users to reduce costs and increase efficiency in the automotive aftermarket.
  
"The Jiefang line has become a standard feature of FAW Jiefang vehicles, and we are committed to building it into a brand based on millions of users." Hu Hanjie laughs, "The future liberation may be another liberation." According to the plan, Jiefang will draw on the passenger car intelligent network connection system to integrate remote diagnosis, remote maintenance, data services, entertainment programs and other content together, ultimately "turning the transportation industry into a pleasant, economic industry."
  
In terms of new energy, under the impetus of the national "double carbon" target, FAW Liberation has seized the opportunity of the new energy market and accelerated the implementation of the "15333" new energy strategy. In 2025, 2030 and 2035, FAW Jiefang will strive to sell 120,000, 320,000 and 500,000 new energy vehicles, accounting for 20%, 50% and 70% of total sales respectively. FAW PLA is working towards this goal.
  
FAW Jiefang is working hard towards this goal. In the first half of the year, FAW Jiefang successfully ignited the first direct-injection hydrogen engine for heavy commercial vehicles in China, and it also cooperated with Vision Power to successfully complete the demonstration of the Jiefang J6P with Vision Power's new generation of heavy truck battery system; in addition, FAW Jiefang completed the delivery of 300 hydrogen fuel cell vehicles.
  
It is worth mentioning that recently, FAW Jiefang and Ningde Times joined hands to establish Jiefang Times New Energy Technology Co. This is an important step in the comprehensive implementation of FAW Liberation's "15333" new energy strategy.
  
The continuous improvement of product competitiveness and the rapid development of new energy field are inseparable from FAW Liberation's continuous investment in research and development. According to the financial report, FAW Liberation's R&D expenses reached 1.02 billion yuan in the first half of this year, accounting for 4.44% of operating revenue, an increase of 2.87 percentage points compared with the same period last year. In terms of new energy products, FAW Jiefang's new energy heavy trucks developed more than 40 new products in the first half of the year; medium trucks completed seven product development and water-cooled battery switching; light trucks developed more than 30 new products.
  
Hu Hanjie said that the transformation of commercial vehicles to new energy has provided opportunities for Chinese commercial vehicles; and in terms of intelligent network connection, FAW Jiefang is early and fast, and under the promotion of policy, it has ushered in a window period to reach "world-class".
  
Laying out high-end and expanding overseas
  
The goal is in the front, and we are facing up to the difficulties. Focusing on the main line of product navigation, FAW Liberation insists on innovation-driven and change-driven, accelerates the consolidation of all aspects of enterprise R&D, products, marketing and channels, and strives to build high-end products and expand overseas markets.
  
Over the years, FAW Jiefang has continued product iterations and updates based on its strong technology accumulation and R&D strength, and guided by market demand and customer operational needs to enhance the competitiveness of its products. FAW PLA's five vehicle bases, three assembly bases and global "four countries and eight locations" R&D centers support the most powerful independent R&D system in the Chinese commercial vehicle industry.
  
After more than 60 years of journey, FAW Jiefang now has seven product series: tractor, cargo, dump, special purpose, new energy, light truck and bus, and 12 product platforms including J7, J6 and JH6.
  
As a leading Chinese commercial vehicle enterprise, FAW Jiefang shoulders the dream of a strong automobile nation and the mission of national industrial revival. At a time when the trend of high-end domestic heavy truck market is becoming more and more prominent, FAW Jiefang is actively laying out the high-end model market for the 14th Five-Year Plan. After J7, FAW Jiefang has created a new strategic platform product and launched its own high-end heavy truck - Eagle Road, which means FAW Jiefang's "double high-end" product strategy has been successfully implemented and will effectively promote the import of domestic commercial vehicles in the field of high-end heavy trucks. This means that FAW Jiefang's "double high-end" product strategy has been successfully implemented and will effectively promote the import of domestic commercial vehicles in the field of high-end heavy trucks.
  
"Without the overseas market, the goal of 'China's first and the world's best' for the Jiefang brand is an empty word." On January 20, 2020, when the overseas marketing department of FAW Jiefang Commercial Vehicles was established, Hu Hanjie said, "The overseas market has always been an important part of FAW Jiefang's strategic objectives."
  
To this end, FAW Liberation has penetrated into overseas terminals to seize the market; improved personnel market research capability and docked terminals to seek breakthrough opportunities; increased overseas sales network layout to increase coverage and enhance terminal sales capability; and improved overseas service network quantity and service quality to create service advantages. For more than two years, FAW Jiefang's overseas market business has borne fruit.
  
In 2021, FAW Jiefang sold 15,000 units overseas for the whole year, an increase of nearly 150% year-on-year. By the end of July this year, FAW Liberation has exported a total of 11,819 units, an increase of nearly 50% year-on-year. At present, FAW Liberation's products are exported to 80 countries and regions in Southeast Asia, Middle East, Latin America, Africa, North America, Eastern Europe, etc. There are more than 70 primary dealers and nearly 300 distributors in nearly 40 countries and regions around the world. We have set up three overseas subsidiaries in South Africa, Russia and Tanzania, and our export products include J6, JH6, Tiger V and other models.
  
"Compared with our friends, we are not doing well enough in exporting. Our target this year is 25,000 units, and we aim to achieve the goal of 60,000 units by the end of the 14th Five-Year Plan." Hu Hanjie especially stressed, "At the same time, we hope that our export products are not low-end vehicles, but high-end vehicles with ladder volume to replace European commercial vehicles, so as to achieve 'China's first and world class'."
  
Top-level design of the industry, free speech needs more true words
  
In addition to the interview, Li Shaohua, Deputy Secretary General, also introduced the preparations for the 2022 China Commercial Vehicle Forum to Hu Hanjie.
  
Li Shaohua, Deputy Secretary General of China Association of Automobile Manufacturers
  
Li Shaohua introduced that the China Commercial Vehicle Forum was upgraded from the China Joint Association of Trucking Vehicle Manufacturers (referred to as C8 platform). In the past 12 years of operation, the C8 platform has been effective and has played a role in promoting the healthy and standardized development of the industry, and is widely recognized by the industry.
  
In order to promote the transformation and upgrading of the industry and the integration of the industry, since 2022, the China Association of Automobile Manufacturers (CAAM), together with the C8 Platform, has been closely communicating with the executives of FAW Jiefang, Dongfeng Commercial Vehicle, China National Heavy Duty Truck, Shaanxi Automobile Group and other companies about the work of the China Commercial Vehicle Forum, and has clarified the positioning and direction of the Forum.
  
This year's forum is themed "Strain and Change - Creating a New Situation for Commercial Vehicle Development", and its content consists of "1+1+4", i.e. a closed-door summit, a main forum and four thematic forums. 4 theme forums. The forum will combine the current market situation, technology lines, competition pattern and business models and other new changes to find a common path for transformation and upgrading, and provide a communication channel for the demands of high-quality development of all parties in the industry.
  
"We hope that the leaders of the vehicle companies will pay attention to it and give full support to the China Commercial Vehicle Forum from the participation level." For the first China Commercial Vehicle Forum, Hu Hanjie gave more support and expectation, "Of course, we can't sit together politely and chat casually, we have to speak freely and more genuinely, and jointly promote the healthy and sustainable development of the industry." He expressed that FAW Jiefang always keeps in mind the original intention and mission of "strengthening the country with automobiles and serving the country with industry", and will fully support and actively participate in the C8 platform and China Commercial Vehicle Forum.
  
In addition, Hu Hanjie and Li Shaohua also discussed a series of industry issues such as regional protection of new energy commercial vehicles, high transportation and development costs, the promotion of industrial technology improvement by overloading and restriction control, and the implementation of yellow-plate vehicle control policies.
  
Hu Hanjie said that the healthy and sustainable development of the commercial vehicle industry requires market adjustment, as well as policy guidance and self-discipline of enterprises. Under the new environment and new form, FAW Jiefang will base on the three starting points of "leading the benign competition in the industry, meeting the changes in customer demand and helping the healthy development of channels", join hands with partners and colleagues in the industry, gather efforts to transform and win the new course, and strive tirelessly towards the goal of becoming a world-class automobile enterprise.