Jinxiang Half-shaft was awarded the title of "Hubei Famous Brand"
---
Recently, the good news came from Hubei Famous Brand Strategy Promotion Committee that our company "Jinxiang" half-shaft was awarded "Hubei Famous Brand" for its excellent product quality, good market reputation and considerate after-sales service.
The "Hubei Famous Brand" is another award that Jinxiang Half-shaft has received after winning the "Hubei Famous Trademark", which marks the fruitful achievement of the strategy of "quality-oriented enterprise" implemented by the company. "The company strictly implements ISO/TS16949:2002 quality management system certification and strengthens the quality control of raw materials, production inspection and finished products. The product one-time delivery inspection pass rate has reached 99.2%, the process capability index exceeds 1.67, and the factory finished product pass rate is maintained at 100%. Strict production technology, strict quality control and excellent management methods have achieved the first-class product quality, which makes the reputation of "Jinxiang" half-shafts in the market better and better. According to statistics, in the first quarter of this year, the market share of "Jinxiang" half-shafts increased by 4.6 percentage points compared with the same period of the previous year.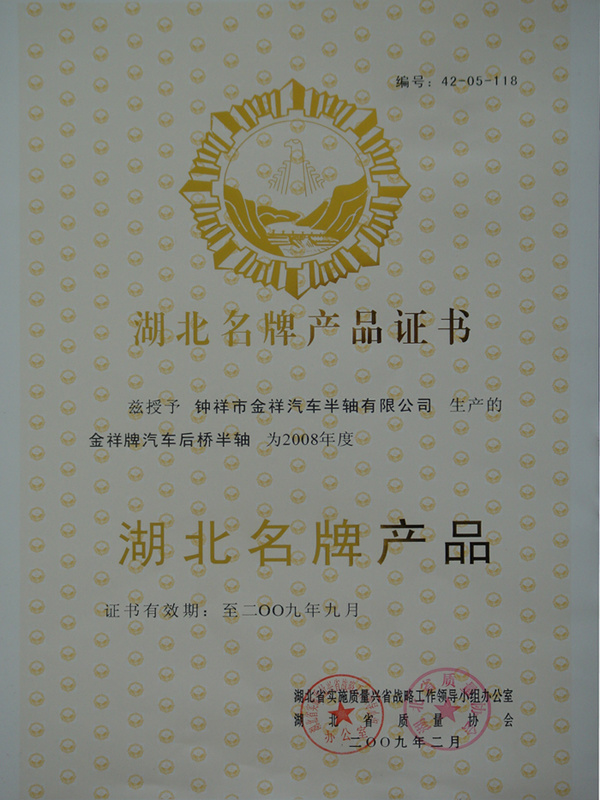 © COPYRIGHT 2022 Zhongxiang Jinxiang Automobile Axle Co., LTD . ALL RIGHTS RESERVED | SEO | power by 300.cn