Our company won the title of national high-tech enterprise
---
A few days ago, there was a good news from Hubei Provincial Department of Science and Technology that Zhongxiang Jinxiang Automobile Half-axle Co., Ltd. was awarded the title of "National High-tech Enterprise"!
In recent years, the company has attached great importance to talent training and technological innovation, and the enterprise's development potential has been steadily strengthened. It has established extensive technical cooperation with Dongfeng Motor Corporation, Huazhong University of Science and Technology and other colleges and universities and large enterprises. While cultivating a large number of technical talents for the company, it has also obtained technical breakthroughs and innovations in key processes such as semi-shaft blank forging, product surface heat treatment, quenching and tempering, and has greatly reduced production costs while steadily improving product quality. At the same time, the company has also achieved the self-development of all product molds, greatly shortening the development cycle of new products. The steady improvement of product quality and super delivery capability have greatly enhanced the competitiveness of the company.
Since 2018, the company has obtained 2 national invention patents and 7 utility model technology patents.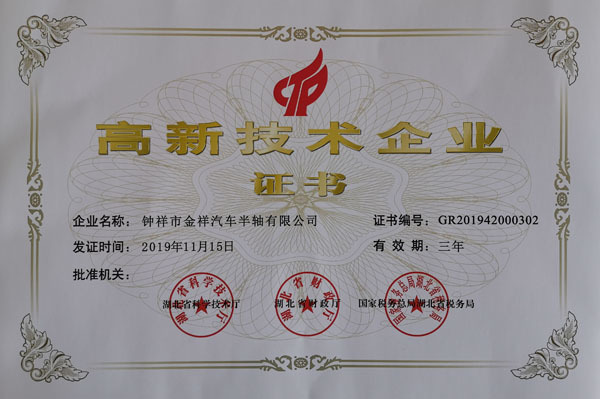 © COPYRIGHT 2022 Zhongxiang Jinxiang Automobile Axle Co., LTD . ALL RIGHTS RESERVED | SEO | power by 300.cn