Local investment expands, can cars "go crazy"?
---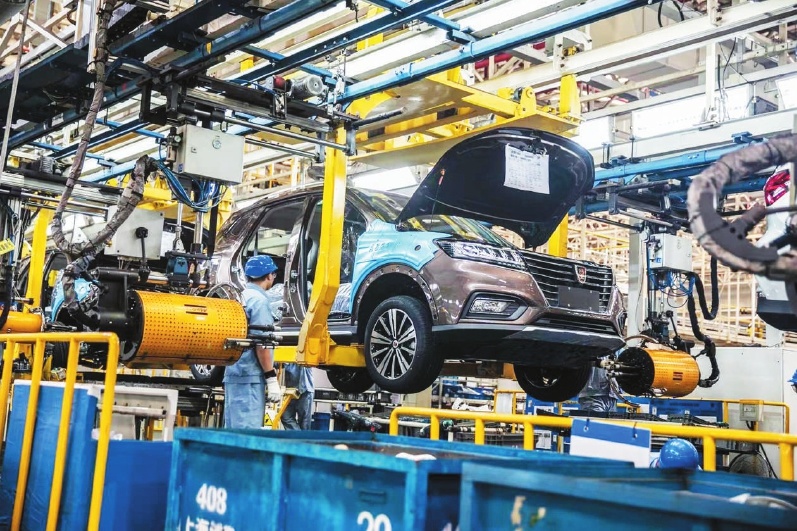 At the beginning of the new year, various localities sounded the "clarion call" for project construction in the new year, and the "three batches" of project construction and centralized construction activities of key projects were intensively launched, involving investment scales of tens of billions of yuan or even hundreds of billions of yuan. After combing and inventorying these projects, it is not difficult to find that modern industry or advanced manufacturing represented by the automotive industry has become the focus, and the investment intensity is far more than before.
"From the existing situation, there has been a boom in investment in automobiles, especially in the new energy vehicle industry, combined with the enthusiasm of local governments to expand investment, or will bring a new round of rapid growth in China's automobile industry investment (at least in intention)." Wang Qing, deputy director of the Institute of Market Economy of the Development Research Center of the State Council, said in an interview with China Automotive News that taking this opportunity, the automobile industry can get more support in resources and factors, and after market competition and reshuffle, the layout of the industry and supply chain is also expected to be further optimized, and at the same time, market confidence will also be enhanced.
The total investment of projects in various places has reached 21.5 trillion yuan
Expanding investment will undoubtedly become an important support for economic development this year. As emphasized at the first standing meeting of the State Council at the beginning of this year, it is necessary to increase the issuance of local special bonds this year, encourage local investment, and support local investment attraction. At the beginning of 2023, major projects in various regions were launched one after another, and new local government bonds were issued one after another. Judging from the news released recently, the investment and construction amount of major projects carried out in many places is huge, and many projects are inseparable from the automotive industry.
  
According to incomplete statistics, around the Spring Festival, major projects in Henan, Shaanxi, Fujian, Guangdong, Hunan, Jiangsu and Liaoning have started construction centrally, with a total of more than 3,900 projects and a total investment of more than 4.1 trillion yuan. On January 27, the Notice of the Fujian Provincial Development and Reform Commission on Printing and Distributing the List of Provincial Key Projects in 2023 was officially issued, with 1,580 projects with a total investment of 4.09 trillion yuan and an annual planned investment of 648 billion yuan. Among them, Fuzhou Dongheng new energy vehicle battery precision structural parts project, Yongan graphite precursor, lithium-ion battery anode material production project, etc. are all in the list; On January 28, the seventh phase of the "three batches" project construction activity in Henan Province was grandly held, with 3,325 projects signed, started and put into operation, with a total investment of 3.19 trillion yuan, and a total of 589 advanced manufacturing and strategic emerging industry projects, with a total investment of 627.95 billion yuan, accounting for 88.8% of the total signed. FAW Jiefang New Energy Commercial Vehicle Project, Box Zhixing Technology New Energy Vehicle Project, Kaifeng Auto City Project, Luoyang Shenlong Automobile Hydrogen Energy Automobile Manufacturing Project and Luoyang AVIC Lithium Battery Equipment Lithium-ion Power Battery Production Line Project are among them. On the same day, the commencement ceremony of key projects in Shaanxi in the first quarter of 2023 was held, and 795 provincial and municipal key projects were started in the province in the first quarter, with a total investment of 564.6 billion yuan and an annual investment of 228.5 billion yuan, including the second phase of BYD's new energy passenger vehicle parts and the technical transformation project of Baoji Geely Automobile's new energy models; On January 29, Guangzhou held a signing event for major projects in the first quarter of 2023, with a total of more than 460 projects started and signed, with a total investment of more than 680 billion yuan.
In order to drive the expansion of effective investment and stabilize the macroeconomy, the Ministry of Finance said at the online press conference on fiscal revenue and expenditure in 2022 that in 2023, it will rationally arrange the scale of local government special bonds, appropriately expand the scope of investment and use as capital, and continue to form an investment driving force. Statistics show that in January alone, the issuance of new special bonds in various localities reached 491.2 billion yuan. The analysis believes that combined with the issuance of the advance approval quota of special bonds and the issuance plans disclosed by various places, the issuance scale of new special bonds in the first quarter of this year is expected to exceed the level of the same period last year, and the issuance scale is expected to reach 1.5 trillion yuan.
Experts pointed out that the concentrated start of a large number of key projects fully reflects the confidence and determination of local governments to seek development, expand investment and promote growth, and the automobile industry, as one of the pillar industries of the national economy, is one of the "power sources" and "stabilizers" of local economic development.
The automotive industry is expected to usher in a new round of investment
"In order to promote local economic development, there is greater pressure on local investment and investment attraction this year." Wang Qing said that from the existing situation, the automotive industry, especially in the field of new energy vehicles and intelligent networked vehicles, has a high willingness to invest, and the industry itself is in an investment boom.
Although the industry generally believes that the growth rate of new energy vehicles this year will slow down compared with the previous two years, it will still maintain the momentum of growth for a long time. The China Association of Automobile Manufacturers predicts that the total sales of new energy vehicles in China are expected to exceed 9 million units in 2023, a year-on-year increase of 35%, and the penetration rate will reach 32.6%; the National Passenger Vehicle Market Information Joint Conference predicts that on the basis of 6.5 million sales in 2022, China's new energy passenger vehicle sales will reach 8.5 million units in 2023, a year-on-year increase of nearly 31%, and the penetration rate of new energy will reach 36%. At the same time, intelligent networked vehicles will also make further breakthroughs this year. Research institutions believe that in 2023, the market size of China's intelligent networked automobile industry will increase to about 150.3 billion yuan, and the sales of ADAS-level intelligent networked vehicles in China will also increase to 14.811 million units, with a penetration rate of about 51.9%. Undoubtedly, with the advent of the wave of electrification, intelligence and networking, the rejuvenated automobile industry is becoming an important starting point for driving the local economy, promoting economic transformation and upgrading, developing a green economy and implementing the innovation-driven strategy, and is also regarded by many cities in China as the highlight of attracting investment.
In Wang Qing's view, this round of investment boom can bring many benefits to the automotive industry: first, the automotive industry can get more support in terms of resources and factors, which is conducive to enterprises becoming bigger and stronger; Secondly, after market competition and reshuffle, the layout of the industry and supply chain will be further optimized, and the strong will be stronger. At the same time, some new industrial systems with great potential will emerge; Third, when local governments increase investment attraction, the investment and business environment will also be improved, which can not only greatly boost the confidence of the market and enterprises, but also reduce the cost of manufacturing and research and development to a certain extent, thereby promoting the technological progress of the entire industry.
Avoid blindness and overheating
In fact, since the official issuance of the "Auto Industry Development Policy" in 2004, the auto industry can achieve today's results, inseparable from the multi-faceted and all-round support of local governments, but it is undeniable that the irrational provision of preferential and supportive policies has also caused the auto industry and the local economy to suffer a lot of unnecessary "pain".
How to avoid repeating the mistakes of the past? Wang Qing bluntly said that on the one hand, in the process of attracting investment, we must carry out reasonable planning, guidance and layout, and we should choose those places that have comparative advantages or are suitable for investment from the perspective of market and factors, so as to avoid blind expansion; On the other hand, when local governments increase investment, they should be reasonably positioned to develop vehicle or parts supporting industries according to specific conditions. Wang Qing emphasized that in fact, by actively developing parts and related supporting industrial chains, it can also have its own place on the national automobile map, especially for those provinces and cities that lack traditional vehicle projects, abandon the "preference" of vehicle projects, turn to the introduction of power batteries, electronic components or after-sales service, etc., can also be connected to the industrial chain to achieve the purpose of increasing investment, expanding employment, and promoting industrial transformation and upgrading.
It is worth pointing out that when the local automobile industry is vigorously developing, the supervision and coordination of the central government are also indispensable. "If enterprises are allowed to act in accordance with the laws of the market, there will be no 'land enclosure' phenomenon." An industry expert who did not want to be named pointed out that in the new environment where the qualification approval power has been delegated to the local government, China needs to strengthen production capacity supervision and early warning measures to strictly prevent local governments and social capital from "trapping money and land" in the name of new energy vehicle construction, resulting in the phenomenon of overheated investment.
"In this round of investment boom, it cannot be ruled out that there may be some unfinished projects and some investment projects that are not originally aimed at developing the local automobile industry." But I believe that over time, these projects will soon be identified and eliminated by the market. Of course, it is inevitable that the local government will also bear some economic losses. Wang Qing suggested that fundamentally it is unrealistic to rely on local governments or enterprises alone to solve the problem of blind investment or overheating, which requires the state to further straighten out the relationship between central and local finance and taxation. If the local expenditure responsibility does not match the fiscal and tax revenue, then the impulse and pressure of local investment promotion will continue to exist, and it is inevitable that there will be a frenzy to attract investment; In addition, the management department can provide some guidance in terms of policies, or issue relevant guidance, to a certain extent, reduce the occurrence of problems such as duplicate construction and blind investment.
Originally published on China Automotive News on February 22, 2023